MOST OF US WERE NOT TAUGHT
HOW TO MANAGE OUR FINANCES.
And yet, money profoundly impacts our lives. Maybe you're sick of:
Struggling to make ends meet or living paycheck to paycheck.
Not being prepared for when unexpected expenses arise.
Feeling stuck in an ongoing loop of surviving rather than thriving.
Not being able to go on vacation or to buy the things you want.
Making poor financial decisions that lead to more debt.
Not knowing where to start when it comes to financial strategy or investing.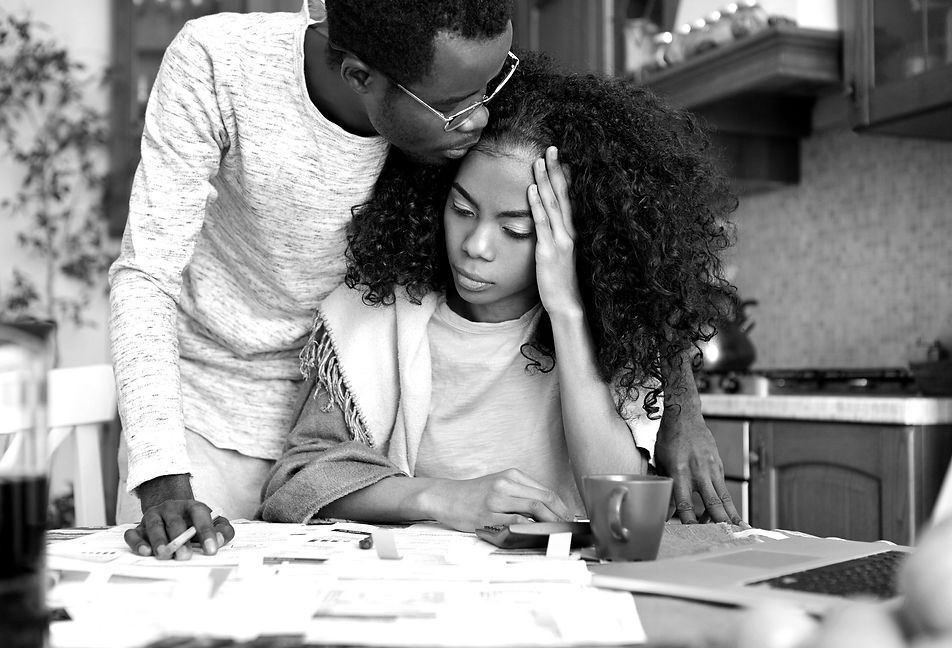 You shouldn't have to constantly feel like you're
WALKING A THIN LINE
Whether you are an entrepreneur, business owner, or employee, I can help you develop a financial strategy to eliminate your debt, increase your income and secure your future.
At Ty Grady consulting, we offer courses, coaching and consulting on financial strategy, business strategy and career development that will give you more:
1
FINANCIAL
CLARITY
---
You will have clear & tangible goals to work toward along with an action plan to get you there. Whether it's paying off all your debt, owning your first home or growing a successful business, you will feel a renewed sense of purpose in taking real steps toward your financial independence. 
2
FINANCIAL
CONFIDENCE
---
Buying decisions will feel much easier and enjoyable, rather than filled with anxiety and uncertainty. Having a financial strategy in place will empower you to seize new opportunities and handle unexpected challenges.
3
MORE
MONEY
---
You will know exactly where to invest and how to create multiple streams of income to achieve financial security & freedom. Your new attitude toward money will positively impact the people around you and you'll start to attract more opportunities for growth.
Ty Grady is a gifted speaker, coach, and entrepreneur. His generous spirit and exceptional business experience will catapult your personal and professional life to new levels when you work with him.
Christopher Kai
Fortune 100 Global Speaker; Founder, GPS, Speaker Training Program; Host, The Gifters Podcast (Top 3%)
TAKE YOUR FIRST STEP
TOWARD FINANCIAL FREEDOM
BOOK A FREE CONSULT
Get Ty Grady's perspective on what you can be doing now to reach your financial and career goals with confidence. You will receive a roadmap with recommended resources so you can take the next step toward realizing your financial freedom.
Schedule Call Now
GET THIS FREE GUIDE
Instantly download the "7 Simple Steps You Can Take Now to Stop Living Paycheck to Paycheck" guide. These simple steps are all things you can start doing today to turn your paycheck into more money, without working more hours.
Download Free Guide Now
BUY THIS WORKBOOK
The "Wealth Principles: 6 Fundamental Strategies to Create Wealth" workbook contains templates + forms to start mapping out your wealth, no matter what level you're at. Learn breakthrough strategies required to build a solid foundation for creating the life, career & business you desire.
Buy The Workbook Now
MEET YOUR SUCCESS COACH
TY GRADY
I know what it feels like to be trapped in a cycle of debt or to feel like you're not living up to your full potential simply because you don't have the means. I went from being broke on the streets of Louisville, Kentucky to becoming a successful real estate investor, author, speaker and CEO of two thriving companies.
​As Founder of Freedom Financial Institute and ​former professor of Management, Entrepreneurship and Finance at two of the nations top universities, I've spent the last decade studying how money actually works and I've worked with people from all walks of life to build their future wealth by learning how to manage their money now. ​
No matter where you come from or what stage you're at in your life, my ultimate goal is to ensure you understand the fundamental strategies to create wealth so you can design the life you've always wanted. This is the driving force that has helped my wife Kameka and I successfully guide over 1,700 people toward secure futures and happier lives. ​
Your money is an asset. Let me help you develop the skills to make money work FOR you rather than against you.
Schedule a Free Consult With Ty
Ty Grady on Fox Business Network
Ty Grady makes an appearance on Inflation in America Townhall hosted by Charles Payne and receives expert advice from Steve Forbes - Chairman and Editor-in-Chief of Forbes Media.
HERE'S WHAT OUR
CLIENTS & PARTNERS SAY...
 SANDY-MICHAEL MCDONALD 
Director of the Office of Economic & Small Business Development at Broward County
There is coaching and then there is Coaching. Strategic Development, Empowerment, Tapping in to one's personal strengths and allowing your assets to determine your path and wealth. If you need Coaching that's truly designed to push and challenge the inner you to get all, and use all of you, then Ty Grady is the one for you.
 MARY BETH SEGERLIND 
Enterprise Vertical Markets- Manufacturing, Oracle Cloud Infrastructure
Ty is an amazing inspirational individual whom I had the pleasure of working with. Ty is committed to helping people to reach their financial goals. His book is inspirational and life changing. I would highly recommend Ty as an asset to any organization or person wishing to better themselves financially!
 CHRISTOPHER SALEM 
CEO - Executive Coach - Keynote Speaker - Award Winning Author - Radio Show Host
Ty is an incredible breakthrough coach with several years experience coupled with credentials to guide entrepreneurs to financial health. Connecting with people like Ty on shared values is important and he is relatable to many people.
IMPROVE YOUR FINANCIAL HEALTH TODAY TO CREATE WEALTH TOMORROW.
   STEP 1  
Schedule a Free Consult
Hit the button below and let's start the conversation on where you are currently at and where you want to go.
    STEP 2  
Get a Clear Roadmap
Based on your circumstance, you will receive recommended resources and concrete steps to reach your financial & career goals with confidence.
    STEP 3  
Practice the Fundamentals
A roadmap means nothing without taking action. Apply the strategies & tools you've learned on a daily basis to realize your financial freedom.